A month full of zines
and the leaves are turning!
Welcome to the Mythical Type newsletter, where I share projects I'm working on, things I've been reading, and sources of inspiration.
I had a lot going on with zines in September!
Here's a recap:
SFV Zine Fest
I had a great time on Zoom calls during the month and talking about zines with other zinesters. Virtual events are done but you can still see all the vendor pages on SFV Zine Fest's website.
Guest speaking
I was a guest speaker at the local arts college, to a class about zine creation. There were about a dozen students in the class. I talked about the process of making zines and shared examples of my zines and a few other zinesters I follow online. The second part of the presentation was about ways to participate in the zine community, offline and online. The class visit was a great way to spend a Wednesday afternoon!
Halloween zine contribution
In the previous issue, I mentioned I was working on something spooky for October. I contributed a page to Webs Across the Campfire, vol. 2, a special Halloween zine from Vlasinda Productions. Copies are available in their shop.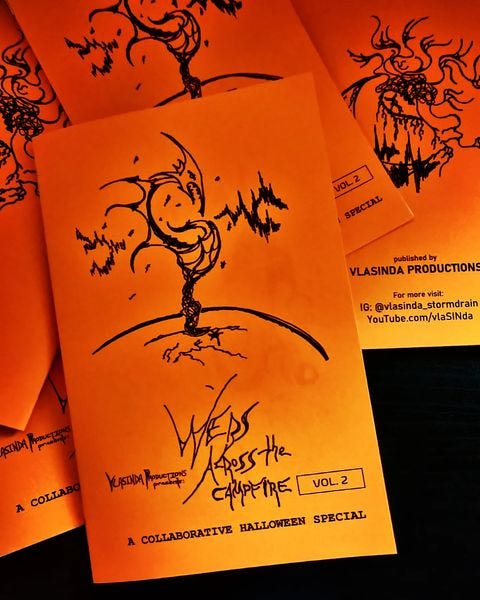 For my page, I wanted to make a collage. I had paper from my ink color experiments to work with. I cut these into shapes for clouds, a moon, and pumpkins.
For the spider webs, I drew on black cardstock with a white gel pen. Then I photocopied the webbing, so I had sections to work with.
Here's the finished page, with text I printed and glued on, a clip art house I modified, and black cardstock for the hill.
Zine Lunch on November 4
Registration is now up for the zine workshop I'm leading on November 4! This workshop is free, open to everyone, and over Zoom. I'm planning some list prompts to generate ideas, and then we'll make a mini zine during the workshop.
Check out recordings from past workshops and the schedule for fall workshops on Sarabande Books' website.
Zine inspiration
Some more art stuff
In September, I participated in the Inchie Challenge created by Amy Maricle. Each day for 11 days, she emailed a prompt for making a small piece of art, like on a 2-inch square of paper.
I liked this challenge because I could spend as little or as much time as I wanted each day. If I felt like drawing for only a few minutes, that was still enough time to make a little drawing.
Here are a few of my favorites from the challenge:
---
Thank you for reading!
I'd love to know what you're working on and/or if you've seen, read, or watched anything inspirational recently. Let me know in the comments!
If you aren't subscribed to this newsletter, you can sign up below. Each month, I send updates on what I'm working on and things that inspire me.
Monthly updates directly to your inbox.
If you want to see more from me, you can follow me on Instagram, check out my blog, or browse my zines on Etsy.
Until next time!